Do you like watching a hot chick be submissive while being face fucked?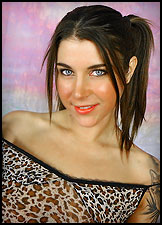 If so, you've definitely come to the right place.  I'm Felicity Feline and I enjoy when men completely dominate me as they force their hard cocks down my throat.  There's nothing like a good face fuck. I'm also flexible and can be bent into many positions as my pussy is pounded.
I know there's a lot of you guys out there that get horny watching a hot chick like me be used and abused, that's why I created this website for you.  Here I will share all my hardcore and softcore porn videos with you.  You'll also get to know about who I am when I'm not being a whore in front of a camera.
Remember to bookmark this site and check back often for new updates.  Oh and of course, please enjoy your stay.
Not sure what face fucking is?
Face fucking simply put is when a guy grabs a whores head and holds it still as he takes his hard cock and thrusts in her mouth and down her throat extremely fast.  This normally makes the slut gag and puke so if she doesn't really have any gag reflex, the longer you can face fuck her.  Take a look at my FaceFucking.com video for an example.
I loved doing FaceFucking.com so much that I actually did 2 scenes for them.  I enjoyed the way the guys there treating me like I was nothing more than a flexible piece of meat for their pleasure.  They shoved their cocks down my throat so that I choked on them.  The face fucking was BRUTAL, but I like the hardcore action.  By the time the scenes were over, I had my face covered in cum.  A facial is always good for the skin.
I even did a SpermSuckers.com scene.  This isn't as action packed as being face fucked as I only had to prove my cock sucking ability.  It turns me on when I have a hard dick in my mouth that I can suck and lick.  Oh and I don't forget about the balls either.  I take them into my mouth and slowly and gently suck them.  The shaft isn't left out as I use my hand to stroke it as I bob my head.  It the combination of everything that makes the guy shoot his load.  I LOVE the feel of jizz hitting the back of my throat.  I swirl it around and play with it before I swallow.